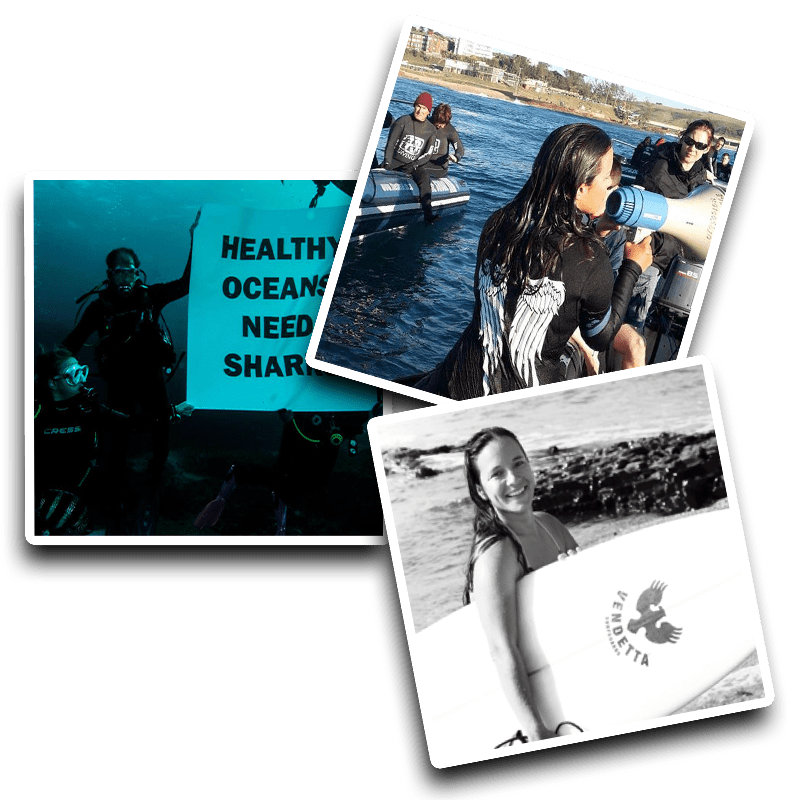 JESSICA ESCOBAR
Chief Scientist – Blue Wilderness Research Unit
In 2006 I was part of a research cruise which surveys the ocean floor using trawling nets, a very destructive fishing method. I was in shock to see how many sharks were caught and brought up to the deck still alive. I desperately picked them up and put them back in the water. The crew laugh at me, because it was an endless task. I did this for 20 days on my first cruise. I then decided to be part of every cruise possible so I could rescue as many sharks as I could handle.
I was born in the mountains of Colombia, yet I loved to be in the water before I could walk. When I turned 11 yrs old I met the amazing animals that are sharks and never turned back. I did my free diving course at 12 yrs old and SCUBA at age 15. My first dive with sharks was at Gorgona Island, in the Colombian Pacific Ocean in 1994. That same year I landed my first job as a dolphin trainer, which only confirmed what I had long sensed: I wanted to be a marine biologist!
I moved to Hawaii in 1998 where I carried out my studies working with Monk seals, turtles and sharks for 5 years. In 2006, I moved to South Africa to pursue a Masters degree in Catshark population dynamics. This eventually expanded to the field of conservation genetics in Shark populations.
I currently reside in Durban, South Africa, where I am the Chief Scientist at the Blue Wilderness Research Unit. Here I conduct shark research and develop conservation programs for Durban's Aliwal Shoal. I'm simultaneously completing my doctorate on the genetic population structure of sharks and its relation to their reproductive strategies through the University of KwaZulu-Natal. My main interest is the biology and conservation of Chondrichthyes worldwide and I am carrying out a revision of shark biodiversity in South Africa and the Indian Ocean
current projects
Jessica's research is focussed on the Black Tip shark species that is a common resident on Durban's Aliwal Shoal
Genetic population assessment of Black Tip sharks in coastal kwaZulu-Natal

Photographic Identification as a tool to assess population status of Black Tip sharks

Economic valuation of shark diving tourism on sharks at Duruban's Aliwal Shoal
recent outputs
Jessica produces regular scientific articles, posters and conducts conference talks on her original shark research
Movement patterns and population dynamics of four catsharks endemic to South Africa 

Spatial and Temporal Variability in the Larval Fish Assemblage of a Warm Temperate South African Estuary, with Notes on the Effects of Artificial Channelling

East Madagascar Current Ecosystem Survey – ASCLME / FAO 2008 Cruise 1
quick facts
Hails from: Medellin, Colombia
Currently lives in: Durban, South Africa
Favorite Place: Kauai- Hawaii
Passions: Diving, especially night dives. When that fails, I like to head outdoors and play with Tinto (my dog) in and around the tidal pools.
Favorite Shark: Zebra shark – Stegostoma fasciatum
PROFESSIONAL BODIES
Jessica is a member of, and gains permissions from South Africa's marine authorities and public institutes
ABOUT US
The Blue Wilderness Research Unit is a subsidiary of Blue Wilderness. Our core purpose is to conduct original shark research, conservation and education programs at Aliwal Shoal, South Africa.  We achieve these goals though collaborating with affiliated scientists and postgraduate students. 
CONNECT WITH US
ADDRESS
11 Escombe Cresent

Freeland Park

Scottburgh

South Africa
EMAIL
research@bluewilderness.co.za