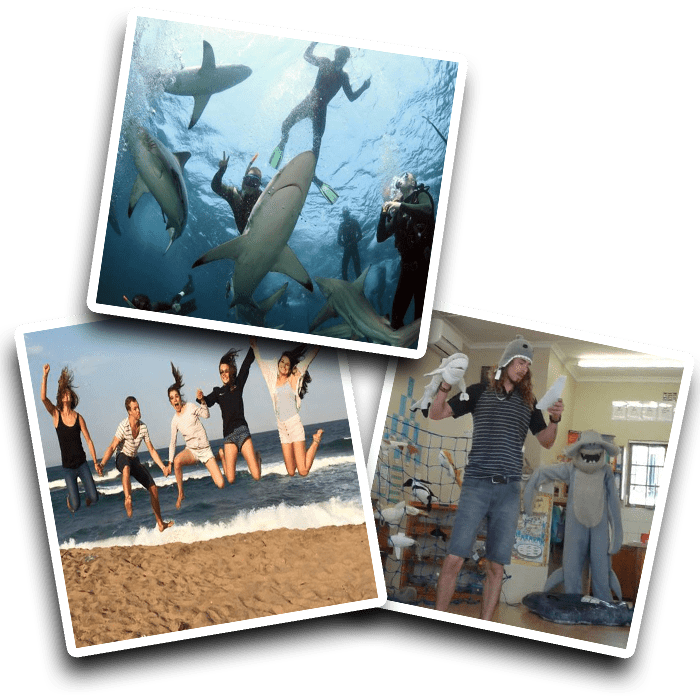 SHARK DEVELOPMENT PROGRAM
The Shark Research Unit welcomes students and enthusiasts on its internationally acclaimed shark development program. Almost anyone can join our dedicated team and develop skills in shark diving, research, conservation and education.
Participants learn snorkeling, diving and scientific techniques to collect data that is vital to the management of some of the world's vulnerable shark species.
As a team member at the Shark Research Unit, you will be the driving force in our education and conservation programs, as well as ensuring the ongoing success of our dedicated shark and ecosystem level research programs. In addition to shark diving and snorkeling with up to five species of sharks, volunteers will be working in the Aliwal Shoal Marine Protected Area, one of South Africa's most pristine and important marine biodiversity hotspots.
Approximate monthly activities: 
Live Shark Week every Week!
Is the development program right for you?
About the Shark Research Unit
The Shark Research Unit is a division of the renowned shark diving and adventure company Blue Wilderness. The Shark Research Unit was set up as a distinct division with a core mission of contributing to the health of the marine ecosystems in general and sharks in particular. The unit houses a small but dedicated team consisting of biologists, conservationists and educators.
Daily operations are centered around a dynamic set of short and long term special projects. Each aimed to produce tangible benefits for the Southern African marine ecosystems. Participants who join the research unit will become vital members of the team and drive these daily projects.
How it works
Get researching
Research the program – Is it right for your aspirations? 
Book on
Submit your application to provisionally book onto program
Confirm place
Confirm your place onto the program by paying your deposit fee
Get flying
Prepare, pack and board your flight for sunny South Africa
ABOUT US
The Shark Research Unit is a subsidiary of Blue Wilderness. Our core purpose is to conduct original shark research, conservation and education programs at Aliwal Shoal, South Africa.  We achieve these goals through collaborating with affiliated scientists and postgraduate students. 
CONNECT WITH US
ADDRESS
34 Egerton Road

Freeland Park

Scottburgh

South Africa
EMAIL
support@shark-research.com