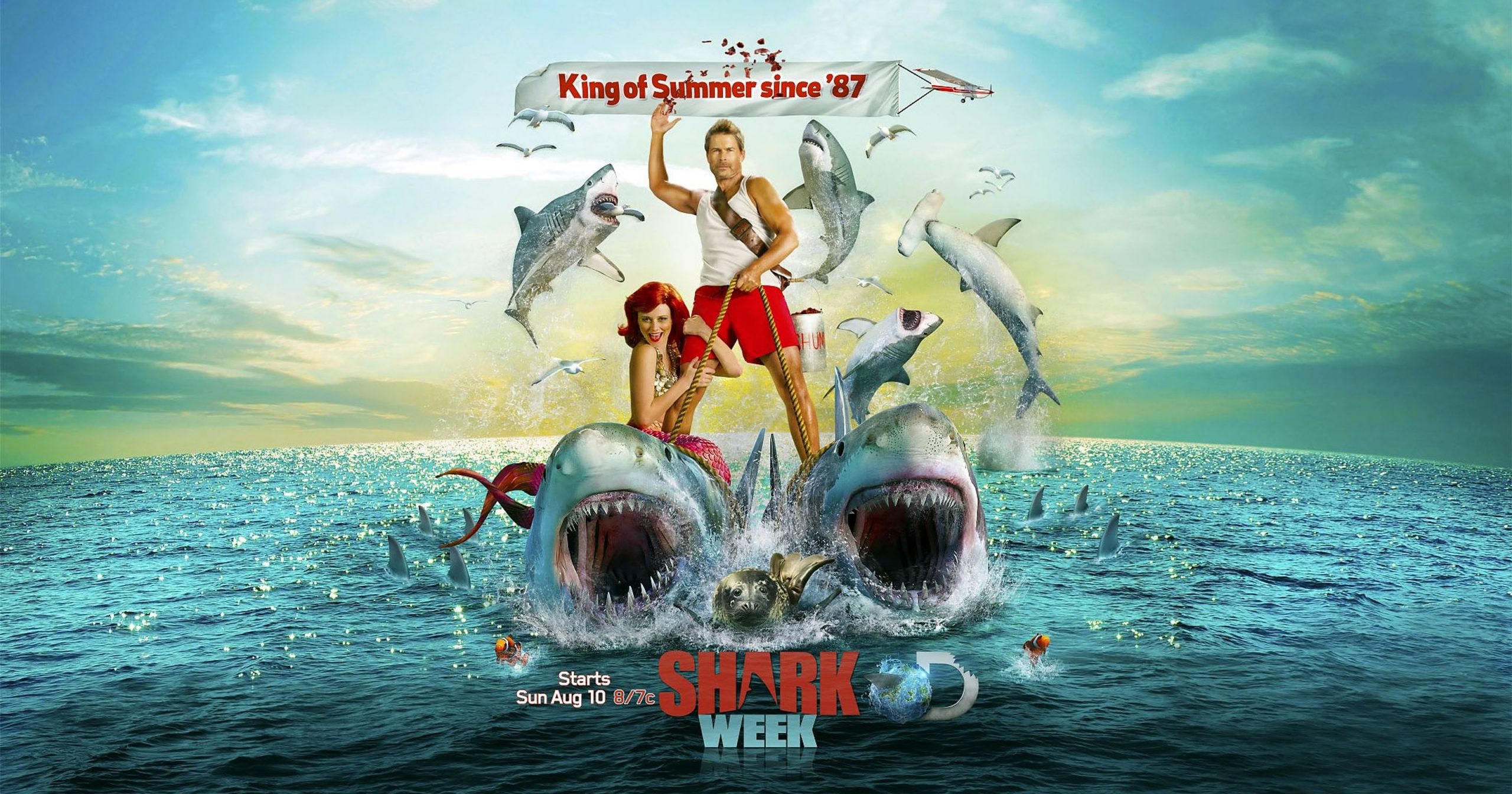 Live Shark Week every week – top shark jobs
For the millions of you Discovery channels', Shark Week fans, scoring a job working with sharks is the ultimate dream career. Here are the best inside tips on how to build a career working with sharks. Discover how to live shark week every week! And maybe get yourself featured on your very own shark week documentary one day…
Shark biologist
Becoming a marine (or shark) biologist is the path most often taken by aspiring students aiming to build a career working with sharks, and yes many shark biologists are featured on shark week each year. This is expected, as scientists can give new perspectives and offer great discoveries on shark ecology. I do,  however, believe that some people misunderstand this career. To start with, shark research is an academic career and ultimately the value and success of your career will be determined by the quantity and quality of your scientific publications (hard core academic publications). Whilst at student level, you may have experiences with sharks on a regular basis, after you are qualified, your field work aspiration have to be balanced against producing scientific outputs (lots of analysing and writing). Thus, I always caution people who want to become marine biologists. If your goal is to interact and swim with sharks on a regular basis, then marine biology is possibly not for you. If, however, you are excited about putting the effort into producing academic publications, and you can balance this with your fieldwork expectations, then you may be in line to have a wonderful fulling filling career working with sharks. And you may be able to feature your shark research on Discovery channels shark week at some stage! However, the main point of this article, is to illustrate that there are many shark jobs, in addition to marine academia that can allow you to enjoy a great career working with sharks – so if you are looking for an incredible shark week career, but academia is not your thing, please read on!
Try your hand as a shark biologist – Learn how!
Shark diving guide
Shark snorkeling and similar shark ecotourism activities are a world wide tourism phenomenon. From shark cage diving, to swimming with rays, to whale shark snorkeling, many humans who are not qualified to SCUBA dive still enjoy interacting and encountering sharks through tourism. Whilst many of the people guiding these interactions are qualified master SCUBA divers, this qualification is not always necessary (depending on government legislation). Guides taking non-divers to interact and view sharks need to have impeccable 'people' skills. The clients will be nervous and will be looking for the guide to take away (or at least manage) their fear of sharks. If you have a great love for sharks, a wish to share your passion with everyone else, and good water skills, then becoming a shark tourism guide may be the perfect 'shark job' for you. Great news if you are hoping to get your shark week break, many shark wranglers and divers are featured on the channels documentaries.
Try your hand as a shark guide – Learn how!
Underwater shark photographer / videographer
For highly skilled SCUBA divers, underwater photography and videography is a natural progression. If you combine underwater media with a passion for sharks, then there is potential for you to build a career documenting sharks. Most underwater photographers and videographers who specialise in sharks, work freelance and look for opportunities to fill. They freelance for documentaries, such as those featured in shark week, or photograph for magazines and other print media outlets. Some photographers and videographers work for tourism companies and photograph sharks and tourists together for daily expedition photographs. Still other underwater photographers work on a freelance basis and combine their skills with journalism. Photographs can then be used in conjunction with written copy to produce articles and blogs.
Try your hand as a underwater videographer – Learn how!
SCUBA diving guide
Whilst many shark ecotourism interactions today require no SCUBA qualification, a number still do. SCUBA divers wanting to dive with sharks need a specialist guide, one who not only a competent master SCUBA diver, but also has a deep knowledge of shark behaviour. Qualifying as a dive-master or instructor involves significant training and costs. The initial qualification is an open water SCUBA qualification, after this is qualifications such as advanced, rescue and other specialties are required before becoming a dive-master. It is also a good idea to invest into some 'shark specialty courses' if you are intending to take paying clients on a shark dive. These kind of shark jobs require guests to look at you for experience and expertise, and the more you can fulfill this role, the better the service you can offer.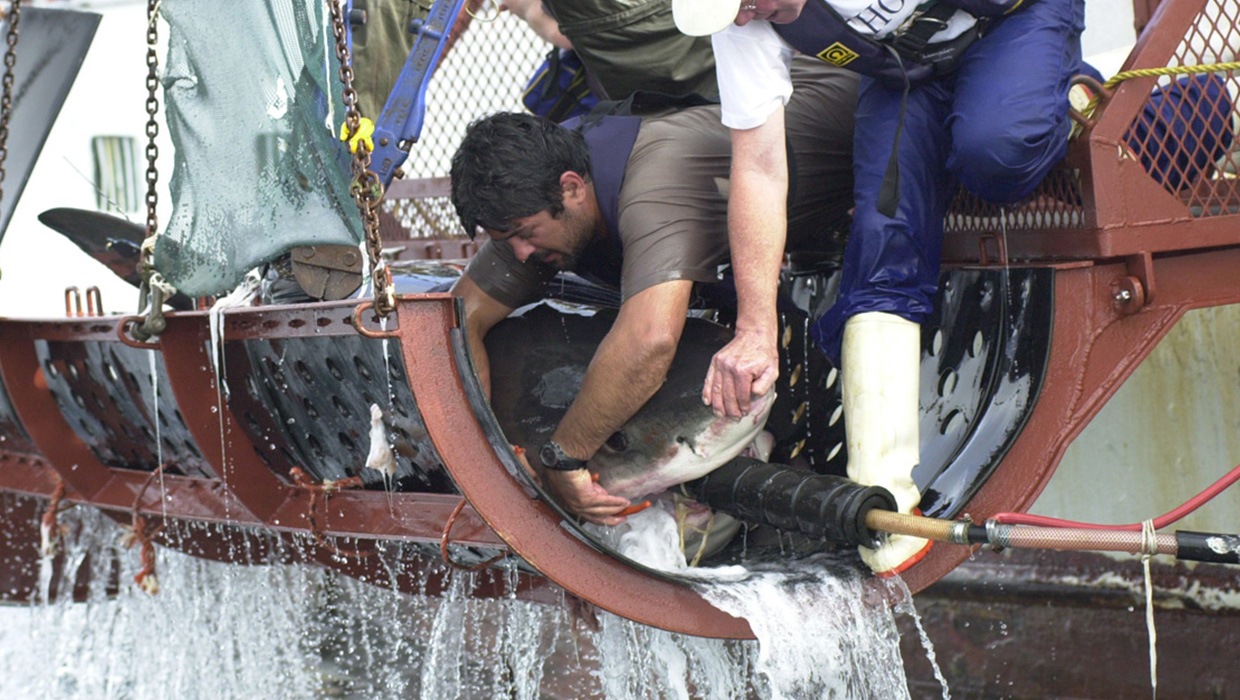 Research technician
Shark fans who do not have the formal academic qualifications of a marine biologist can still have incredible careers working and conducting research on sharks as marine technicians. This person is a technical expert who assists scientists and specialises in fieldwork, technologies, logistics and all the other aspects of research that are not directly related to the academic pursuit of designing a project, analyzing the data, writing up and publishing the results. In short, marine technicians are right-hand people (part of the shark week research teams), often doing the enjoyable practical work whilst the marine biologist is in front of the computer getting grants and publishing research. This is definitely a dream job for people wanting to be involved in shark research but who do not want to be responsible for producing the scientific publication. The job, however, does require significant training and most technicians have spent between 2 and 4 years studying at a polytechnic or college to gain the requisite skills and qualifications.
Try your hand as a research technician – Learn how!
Captain or crew
Strangely enough, most sharks that humans encounter are at sea, go figure! A top quality skipper and crew are a must, to get people to the sharks. Skippers and crew are perfect assistants to help in working and interacting with the sharks, during time on anchor. Crew members can fill in as divers, research assistants, wranglers or simply enjoy watching sharks in action. Qualifying as a vessel skipper does take some work and training, but qualifying to a useful level with course work and gaining practical skippering hours, should take less than one year. Think of how many shark week documentaries you watch without a vessel, skipper or crew – not many right?
Try your hand as crewing – Learn how!
Shark aquarist
Not all sharks occur in the wild, many aquariums house sharks as part of their displays. Recently, a US aquarium has had moderate success housing juvenile great white sharks for short periods of time. If you are looking for hands on work with sharks, then shark husbandry at an aquarium may be your perfect in to the world of shark jobs. The husbandry of sharks involves ensuring they are kept healthy and well maintained in the aquarium. This involves feeding, monitoring behaviour, maintaining water quality and occasionally treating them for illness (and the other myriad of tasks it takes to run a successful salt water aquarium). Another aspect of this position is assisting in various behavioral experiments that associated researchers may be conducting.
Veterinarian
Whilst most vets are focused on working with domesticated animals (read cats and dogs), a small section of vets specialise in working with marine life. Aquariums and researchers all require the services of vets for various shark projects or health maintenance. For instance, during the OCEARCH (Shark wranglers series) we had a specialised vet on each expedition involving catching and tagging great white sharks. The vets on the expedition conducted the surgeries that were too complicated for the researchers (e.g. withdrawing blood) and also monitored the overall health of sharks whilst we had them on cradles out of the water. Anyone aspiring to become a vet take note- there is a huge amount of formal academic and practical training required. Also, as work on sharks is quite rare, you will most likely end up primarily working on cats and dogs or even farm animals and enjoying the occasional bit of shark work on the side.
Commercial / scientific diver
Legally- speaking, most scientific SCUBA diving for marine research has to be conducted by a qualified scientific diver. A scientific dive qualification is similar to a commercial divers qualification. Commercial divers are often the underwater specialists who can safely collect the underwater data that marine biologists require ( other things you would do would be to maintain underwater equipment, retrieve units, tag sharks etc). Commercial diving qualifications are intensive but achievable for most people who are qualified as a recreational diver and want to take their diving to another level.
Environmental journalist
A writer, and particularly one who is concerned about wildlife, is another career that may allow you to have extensive opportunity to work with sharks. It is a fact that sharks sell newspapers and magazines. As such, each publication whose niche market centers around wildlife, conservation, travel or ecotourism is going to regularly features stories on sharks. If writing is your speciality, getting SCUBA qualified and pitching stories about sharks is a sure way to be able to work with these incredible animals on an occasional basis. Many environmental journalists have travelled the world and experienced and documented a greater diversity of sharks than most marine biologists have.
Try your hand as environmental journalist – Learn how!
Shark N.G.O. campaigner
My wife, Fiona Ayerst, (Director of shark NGO – Sharklife) just reminded me of one more important set of shark jobs – a shark NGO campaigner. Numerous shark conservation organisations around the world have been started up by passionate conservationists with the express aim of saving sharks from extinction. Many such orginisations run shark campaigns that allow campaigners to work closely with wild sharks. Most small NGO's work with a shoestring budget and rely primarily on volunteers offering their time for free. Some of the larger ones, however, offer a great opportunity to work with sharks, save sharks and build a career. Also, if you are passionate enough, why don't you start a shark NGO yourself?
Making a career working with sharks
People who are lucky enough to work in shark jobs are typically not the most wealthy, but they do live a life of passion and intrigue, and have the added chance of been featured on Discovery Channel famous series Shark Week. Thus, if swimming, watching and enjoying the wonders of the shark world is your aim, then I would strongly suggest seeing which of these industries you would be best suited to. Try to gain as much practical experience as possible before investing into formal training, in a career that may not be perfect for you. At the Blue Wilderness Research Unit, our shark volunteer program is designed specifically with you in mind, it opens you up to a variety of industries including shark research, ecotourism, photography, education and awareness: all over the course of one month. For many aspiring shark professionals, it is a great program to determine where your passion lies, and take the first steps toward realising your passion. You can learn more about the shark volunteer program by clicking the button below! Love sharks! 
Blogger details – Ryan Johnson
Ryan is an established shark biologist, and has been featured and hosted a number of shark documentaries for Discovery Channel and National Geographic. Visit Ryan's personal website