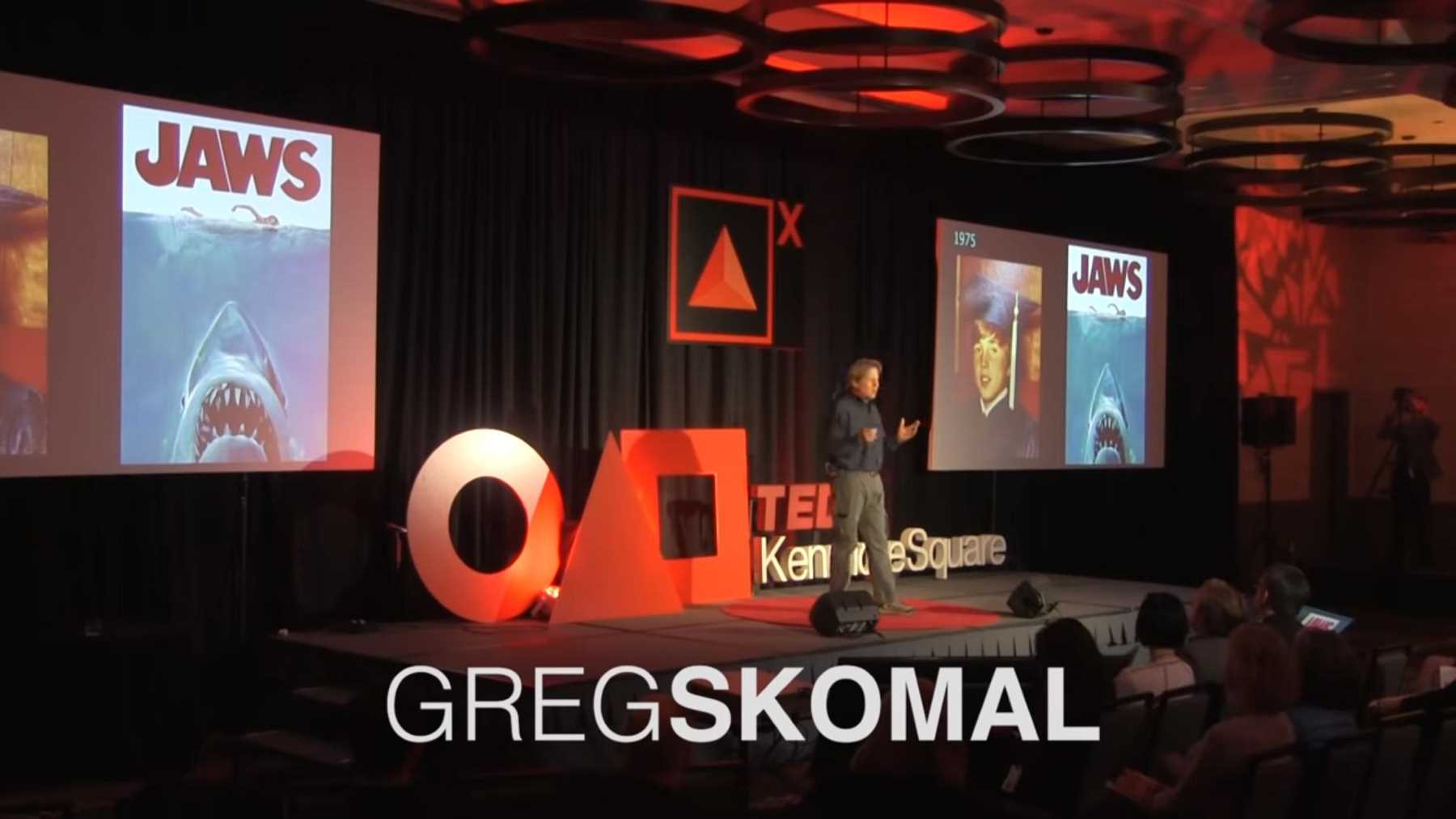 Living with sharks – TED Talk by shark biologist Greg Skomal
Dr. Greg Skomal is an established great white shark researcher. He conducts most of his research on the coast of Cape Cod in the Atlantic Ocean. Watch his TED Talk to hear about how he became interested in great white sharks, and what people should know about these sharks.
Dr Greg Skomal is an accomplished marine biologist, underwater explorer, photographer, aquarist, and author. He has been a senior fisheries biologist with Massachusetts Marine Fisheries since 1987 and currently heads up the Massachusetts Shark Research Program (MSRP). Dr Skomal is also adjunct faculty at the University of Massachusetts School for Marine Science and Technology in New Bedford, MA, a guest investigator at the Woods Hole Oceanographic Institution in Woods Hole, MA, and an adjunct scientist with the Center for Shark Research in Sarasota, FL.
Greg Skomal holds a master's degree from the University of Rhode Island and a PhD from Boston University. Through the MSRP, he has been actively involved in the study of life history, ecology, and physiology of sharks. His shark research has spanned multiple fish habitats around the globe, taking me from the frigid waters of the Arctic Circle to coral reefs in the tropical Central Pacific. Much of my current research centers on the use of acoustic telemetry, satellite-based technology, and animal-borne imaging to assess the physiological impacts of capture stress on the post-release survivorship and behavior of sharks. I have written dozens of scientific research papers and have appeared in a number of film and television documentaries, including programs for National Geographic, Discovery Channel, ESPN, and numerous television networks. He has been an avid SCUBA diver and underwater photographer since 1978. Although his research passion for the last twenty-five years has centered on sharks, he has been an avid aquarist for over thirty years, having written eleven books on aquarium keeping. His most recent book, The Shark Handbook, is a must buy for all shark enthusiasts. His home and laboratory are on the island of Martha's Vineyard off the coast of Massachusetts.
Blogger details – Rouxne van der Westhuizen 
Rouxne has an Honours degree in journalism and media studies. She is the course director for the Travel and Environmental Journalism at the Africa Media Academy. Rouxne specialises in wildlife conservation writing, travel journalism and blogging.